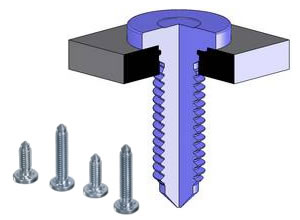 Strux® studs are captive fasteners which are clinched into formed sheet metal panels. As a result, ready-to-install sheet metal components are produced.

Strux® studs are a reliable and cost-effective alternative to conventional weld studs.
High push-out forces and torque values are a feature of this range of fasteners.

Strux® for highest quality

Strux® studs are installed in clinching dies through panels in which holes have been pre-punched.
The hole in the panel is widened by the calibrating collar, which also centres the stud.
The metal is then pressed into the ring groove and the Torx torsion lock installed.

The joint is able to bear high loads due to the patented under-head geometry.
Cost is saved because the process needs fewer steps to complete and less energy is consumed.
In addition to this, multiple studs can be installed in a single operation, which is an additional advantage.
...... Ölçüleri
Sheet thickness: 2.5 - 5.0mm
Thread Sizes: M5 - M10
Strength class: 8 and 10
Features: Clinch stud for thicker sheet metal panels