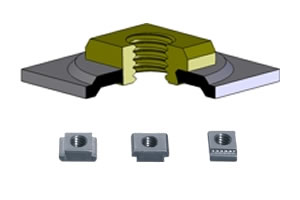 For the cost-effective use of piercing nuts in the production of sheet metal parts there is hardly a fastener more ideal then the PNC piercing nut. Depending on metal thickness the nut must have a pre-pressed boss.

Cost advantages exceeding 40 % compared with normal welding processes are a decisive argument in favour of this type of piercing nut. Key application areas, as seen by ARNOLD & SHINJO, are the electrical, the automotive, and the metal furniture industry.

To install the PNC piercing nuts, ARNOLD & SHINJO provides a modular tooling range. Punch heads, dies, feeding devices and the necessary control systems are part of the standard supply programme.
...... Ölçüleri
Sheet thickness: 0.6 - 2.5mm
Thread Sizes: M3 - M10
Strength class: 8
Features: The square piercing nut for mid-range strength requirements, excellent price-performance ratio