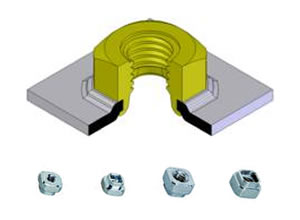 The HR rivet nut for high strength sheets

Arnold & Shinjo designed a new generation of rivet nuts allowing customised solutions on all sheet thicknesses from 0.4 to 4.5 mm. This fastener is designed primarily for applications on high strength, press- and mould-hardened steels. Previously installed ARNOLD & SHINJO processing technologies can be modified easily and economically to integrate the new rivet nut system. Hence this reliable and cost cutting alternative to welding can exploit its advantages to the full extent. This new product line has stood the test above all in applications on sheets that must fulfil particular demands on mechanical strength properties and vibration resistance.

Automotive engineering ranks among the central key industries in Germany characterised by high productivity and innovation density. The HR rivet nut is ARNOLD & SHINJO's response to the new demands that specifically the automotive industry places on the processing of semifinished products. Over the past years there has been growing awareness for environmental aspects in lightweight body engineering. Measures for reducing weight not only included glass fibre reinforced carbon materials on bodies, but also presented high and higher strength steels for lightweight optimisation.

Cost cutting with maximum reliability

The new HR rivet nut is designed specifically for reliable connections with sheet thicknesses from 0.4 to 4.5 mm. The minimum number of variants, i.e. the one nut for all sheets up to 2.5 mm, assures sustainable cost cutting potential. Fulfilling property classes 8 and 10 and stainless steel the high material quality of the new product line is ideal for applications with the respective sheet thicknesses and qualities. High pullout forces prevent the fastener from breaking in safety critical situations. At the same time the extreme torque strength was adapted to the profiles of greater sheet thicknesses, irrespectively of the sheet strength.

Standardised tool range

A standardised range of tools is available for processing HR rivet nuts. Based on its system philosophy of fastener and processing technology ARNOLD & SHINJO offers the optimal automation of the mechanical joining method. The modular system technology consists of clinch heads, dies, feeders, and the requisite controllers.
...... Ölçüleri
Sheet thickness: 0.6 - 4.5 mm
Thread Sizes: M5 - M12 (7/16")
Strength class: 8 and 10
Features: Suitable for all sheet thicknesses up to 4.5 mm and all sheet strengths. Nut solution for High tensile sheet metal, press hardened and form hardened sheet metal. Available in stainless steel.