İthalat Ürünlerimiz

Saç Kenetleme Çözümleri

Çakma Somun Sistemi

Markalama Kalıp ve Ekipmanları

Self Clinching Fasteners
İmalat Ürünlerimiz

Hidropnömatik Silindir

Hidrolik Silindir

Pnömatik Silindir

Buster

Özel Buster

Kaynak Busteri

Rezerv

Pres

Hassas Hız Kontrol Silindiri
Arnold & Shinjo - Çakma Somun Sistemi - RIVTEX RXM Piercing Nuts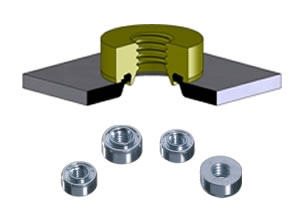 The round RIVTEX RX piercing nut can be installed automatically and is the answer to many production needs in steel and aluminium sheet metal.

The large load bearing area of RIVTEX nuts provides high resistance against push out and torque and, in this way, the nuts develop their own failure safety of the joint. The result is a high-quality sheet metal part ready for installation.
...... Ölçüleri
Sheet thickness: 0.75 - 2.0mm
Thread Sizes: M5 - M10
Strength class: 10
Features: Round nut, one nut for the sheet metal thickness range of 0.75 - 2.0mm
Çalışma Prensibi

Stage 1 - Start
The piercing nut is clamped in the punch, the sheet metal is placed on the die.
Stage 2 - Press Stroke
When the punch moves down, the pilot of the nut punches the hole into the sheet component.
Stage 3 - Punch Process
The stamping waste drops through the die and the sheet is pressed into the nut.
Stage 4 - Clinching Process
The punch is in lower position and the sheet metal is completely forced into the undercut of the nut.