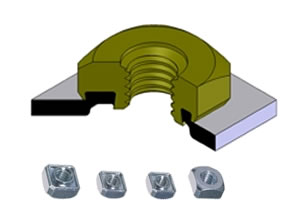 The hole is punched and the fastener, the PIAS® piercing nut, permanently joined to the plate in one operation. The PIAS® systems can be used in aluminium, high-strength and/ or pre-coated steel plate in different end products and represent a new way to effect cost savings.

The tool components can be used in virtually all tool and press systems. Usually, standard components are used. This allows very quick individual completion of punch heads and dies. The simple and intelligent design ensures reliable function of all system components at all stages of the process. Different feeder solutions make this system suitable for small medium and high volume production.

The wide range of uses, high efficiency and cost-saving potential of this fastening method and the numerous advantages over conventional methods of fastening mean more users worldwide are enjoying the benefits of this unique system.
...... Ölçüleri
Sheet thickness: 0.6 - 2.5mm
Thread Sizes: M5 - M12
Strength class: 8 and 10
Features: The square piercing nut provides higher torque performance with very flexible installation systems