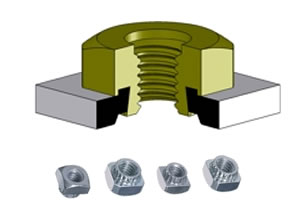 Up to now, the process has only been applicable to sheet metal of up to 2 millimetres thick but ARNOLD & SHINJO has now significantly extended the application range for these fasteners. The new product range PIAS®HN piercing nuts now make it possible to process sheet metal up to 4 millimetres thick, and in case of aluminium even up to 5 millimetres.

Particularly in applications with sheet metal panels which meet special requirements with respect of mechanical strength and vibration resistance, these new, tough fasteners are displaying their advantages. PIAS®HN piercing nuts are characterised by a special material and a novel geometry of the punch collar. They can be supplied in property class 10 with thread sizes of M5 to M10 from stock. The special knurl on the punch collar allows PIAS®HN piercing nuts to offer a high degree of twisting resistance.

Cost advantages exceeding 30 percent when compared with the classical welding techniques are, in addition to the high quality of the joint, a decisive argument in favour of specifying the piercing nut system. Key areas of application, as seen by ARNOLD & SHINJO, are in the commercial vehicle industry, fittings for the building industry, and furniture production.

For processing the HN piercing nuts ARNOLD & SHINJO provides a modular tooling range. Punch heads, dies, feeding devices and the necessary control systems are part of the standard supply programme. If required, complete processing systems can be planned and supplied for use in high volume production.
...... Ölçüleri
Sheet thickness: 2.5 - 4.0mm (Aluminium up to 5.0mm)
Thread Sizes: M5 - M12/ M14/ M16
Strength class: 10
Features: The square piercing nut for thicker sheet metal panels