İthalat Ürünlerimiz

Saç Kenetleme Çözümleri

Çakma Somun Sistemi

Markalama Kalıp ve Ekipmanları

Self Clinching Fasteners
İmalat Ürünlerimiz

Hidropnömatik Silindir

Hidrolik Silindir

Pnömatik Silindir

Buster

Özel Buster

Kaynak Busteri

Rezerv

Pres

Hassas Hız Kontrol Silindiri
NP - Self Clinching Fasteners - Snaptop Standoffs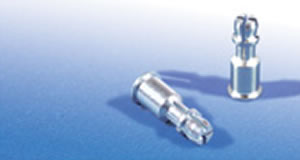 Self Clinching Quick-Release Standoffs reduce both the time and costs associated with traditional assembly methods for, say, PCBs.

The use of this fastener will also minimise the amount of loose hardware (screws, for example) usually associated with such tasks.

Installed from the bottom of the panel, Quick-Release Standoffs install flush and are suitable for installation in Steel and Aluminium bottom panels of minimum 1 mm thick with the quick release feature suitable for top panels of 1.0 mm to 1.8 mm.

Available in Steel, Stainless Steel and Aluminium in a range of lengths to suit your application.

A broaching style of quick-release standoff is also available by special order for PCB to PCB mounting applications (specify type CBQRSO).

Like all self clinching fasteners they are installed using a parallel squeezing action so require access to both sides of the panel.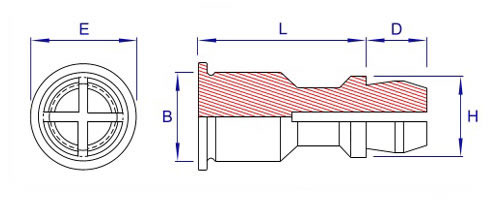 Mounting Hole
in Top Panel ± 0.08

Mounting Hole
in Bottom Panel ± 0.08

Thickness range
for top panel

Min sheet thickness
bottom panel

H
± 0.13

D
± 0.13

E
± 0.13

B
Max

4mm
(6.6mm Min C/L to edge)

5.40
(2.54mm Min C/L to edge)

1 - 1.8

1.0

4.77

3.58

6.35

5.38
Available
Lengths

Length (L) ± 0.13

8

10

12

14

16

18

20

22

25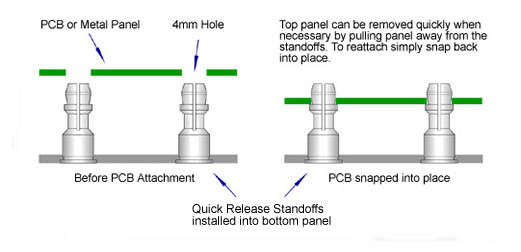 Materials

Finishes

Carbon Steel
Stainless Steel (A2)
Aluminium (AL) (Special Order)

Bright Zinc / Trivalent Clear Passivate (ZI)
Other finishes available to order

The following panel material hardness limitations
apply when installing Self Clinching Standoffs.
Steel Quick Release Standoffs: 60HRB Max,
Stainless Steel Quick Release Standoffs: 70HRB Max,
Aluminium Quick Release Standoffs 50HRB Max.

Part Number Examples

Type | Mating Hole | Length | Finish
i.e. : QRSO-4mm-10-ZI
Quick Release Standoff - 4mm x 10mm - Steel - BZP)
i.e. : QRSO-4mm-20-A2
(Quick Release Standoff - 4mm x 20mm - Stainless)
Installation Guide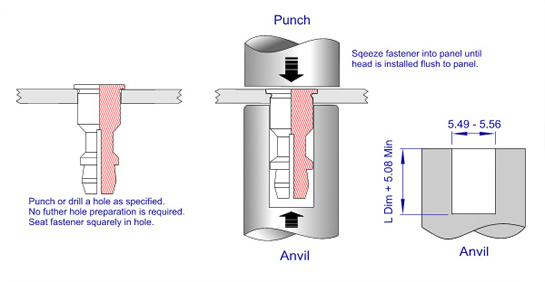 First punch or drill the correct size hole. DO NOT deburr the hole prior to installation as this will remove material required during the clinching process. It is preferable to install the fastener from the side of the panel with the burring or blow through.

Place the fastener in the hole like in the diagram above making sure the part is seated squarely.

Apply a parallel squeezing force until the head is installed flush in the panel.

When installing Self Clinching fasteners, please pay attention to the minimum hole centerline to edge and parent material hardness limitations.

For special applications or if you are unsure of any aspect about the usage or installation of this fastener, give our sales office a call and we will do our best to offer you a solution or give advice on your application.
Performance Data
Fastener
Material

Bottom Panel

Removable Panel

Test Panel

Installation
(kN)

Pushout
(N)

Max first snap on
force (N)

Min first snap off
force (N)


Min 15thsnap off
force (N)

Aluminium

Aluminium

6.7

880

58

13

4

Steel

Aluminium

6.7

880

89

27

9

Steel

Steel

15.5

1780

89

27

9

Stainless Steel

Steel

16

1780

89

27

9
The above data is based on average values obtained in a test environment. Variations in hole size, panel material and installation will effect performance. It is recommended that you carry out your own performance tests in the actual application. Contact our sales department who will be happy to supply samples free of charge.
İndir