NP - Self Clinching Fasteners - Low Profile Panel Fasteners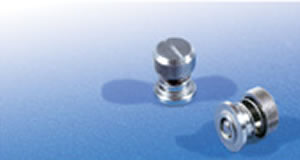 Self Clinching Low Profile Panel Fasteners provide a captivated spring loaded screw for use in thin sheet metal where subsequent access is required but space is at a premium.

They reduce loose components and so reduce the risk of loose hardware being lost or falling out and damaging internal components.

Actuation can be by tool or hand.

Like all self clinching fasteners they are installed using a parallel squeezing action so require access to both sides of the panel for initial installation.

Available in Steel in thread sizes M3 - M5 (M6 available to order) and in Stainless Steel to order.

Please check for availability before specifying.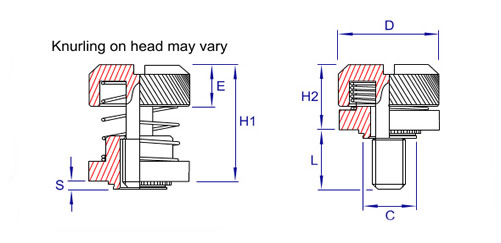 Thread
& Pitch

Material
code

Hole Size
+ 0.08

Minimum
Panel
Thickness

S
Max

C
Max

D
+ 0.4
- 0.15

L
± 0.4

E
± 0.13

H1
± 1.5

H2
Max

M3 x 0.5

1

5.5

1.0

0.97

5.48

10.31

7.62

5.13

15.11

8.26

2

1.5

1.48

M4 x 0.7

1

6.4

1.0

0.97

6.38

11.89

7.62

5.26

15.24

8.38

2

1.5

1.48

M5 x 0.8

1

8.0

1.0

0.97

7.98

13.46

7.62

5.59

15.37

8.51

2

1.5

1.48

M6 x 1.0*

1

9.5

1.5

1.48

9.48

15.88

8.89

6.12

17.15

9.78
* Made to special order only.
Materials

Finishes

Carbon Steel
300 Series Stainless Steel (A2) (Special Order Only)

Bright Nickel over Copper Flash (CN)

The following installation panel material hardness
limitations apply when installing Self Clinching Low Profile Panel Fasteners.
Steel Low Profile Panel Fasteners: 60HRB Max
Stainless Steel Low Profile Panel Fasteners: 70HRB max


Part Number Examples

Type | Thread | Material Code | Finish
i.e. : NPFL2-M3-1-CN
(Low Profile Panel Fastener-M3-1mm
minimum panel-Steel Copper Nickel)
Installation Guide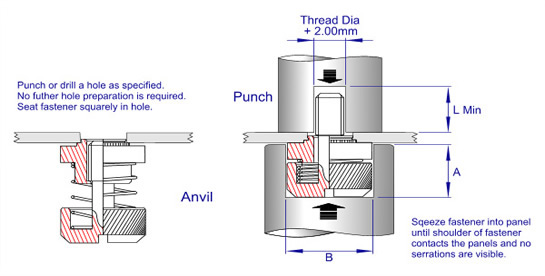 Thread
Size

L
Dim Min

A
± 0.05

B
± 0.05

M3

7.6

7.49

10.69

M4

7.6

7.87

12.29

M5

7.6

7.87

13.87

M6

8.9

9.27

16.26
First punch or drill the correct size hole. DO NOT deburr the hole prior to installation as this will remove material required during the clinching process. It is preferable to install the fastener from the side of the panel with the burring or blow through.

Place the fastener in the hole like in the diagram above making sure the part is seated squarely.

Apply a parallel squeezing force until the fastener is seated against the panel with no serrations visible. Do not over squeeze the fastener into the panel as this will result in the fastener being damaged.

When installing Self Clinching fasteners, please pay attention to the minimum hole centerline to edge and parent material hardness limitations.

For special applications or if you are unsure of any aspect about the usage or installation of this fastener, give our sales office a call and we will do our best to offer you a solution or give advice on your application.
Performance Data
Thread

Test Panel Material

Aluminum

Steel

Installation (kN)

Pushout (N)
Material Code 1 / 2

Installation (kN)

Pushout (N)

M3

9.8

285 / 823

Steel parts can only be installed into steel
panels with a maximim hardness of 60HRB.
Stainless steel parts 70HRB.

M4

12.5

302 / 890

M5

15.6

320 / 1156

M6

19.1

1423
(Material Code 1)
The above data is based on average values obtained in a test environment. Variations in hole size, panel material and installation will effect performance. It is recommended that you carry out your own performance tests in the actual application. Contact our sales department who will be happy to supply samples free of charge.
İndir